Courtesy: National Geographic




We're an egoistical, delusional lot, us humans. We're the only species on the planet who despoils its own life support system and who does not live within biological limits. Does that make us the most intelligent or least intelligent species?
Preservation of our environment remains well toward the bottom of our priorities. Personally and collectively, in our daily lives and in the media, we fixate on career, financial accumulation, economic growth, political performance, consumerism, entertainment, social media, and external validation. None of these aspects of our lives mean anything without a livable planet full of basic resources, and every one of these fixations contribute directly or indirectly to our planetary degradation.
Noam Chomsky has even begun to recognize that our precarious environmental predicament – primarily envisioned as the issue of climate change, though it encompasses so much more – is the most crucial existential threat to human life on the planet. Of late, whenever you see Chomsky interviewed or hear him speak, he tends to emphasize that of many injustices and dire risks to the people of the United States, the people oppressed by U.S. empire, and humanity as a whole, all pale in comparison to the our environmental crisis.
In a way, Rich and his critics are both right and wrong. We are all to blame for our ecological catastrophe, but our American government - which is now a de facto subsidiary of major corporations - along with the corporations themselves and the rich who benefit most from corporate profits, are far more to blame than the rest of us because they have far more power and ability to enact changes and control societal norms. The poor basically bear no burden because when you are struggling to meet your basic needs, it's nearly impossible to prioritize anything beyond those simple human requirements.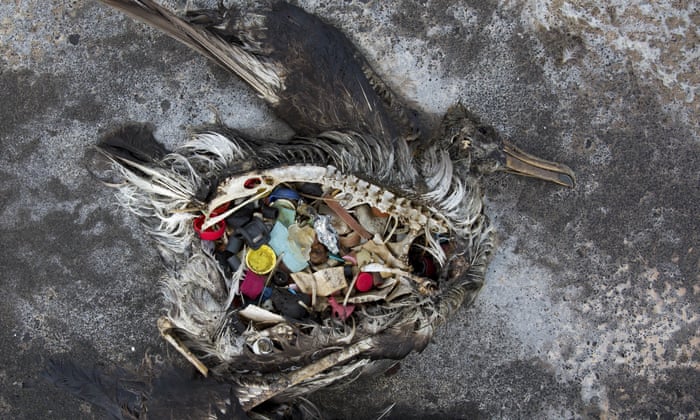 Courtesy: The Guardian
Courtesy: Ensia
For the past century or two, we've gone down a slippery slope of permissiveness in terms of environmental responsibility as a civilization, and we may never ascend from the bottom. The only true sustainability is biodegradability - meaning whatever resources we take from the earth are able to be returned to the earth. Ultimately, sustainability means that what we use returns to the earth in a timely manner that does not pollute, causing ill health or irreparable ecological damage. Consequently, almost nothing we call "sustainable" within our corporate industrial civilization truly is. For the most part, we barely even compost the organic, decomposable items that could easily go back to the earth, replenishing the nutrients to and enhancing the quality of the earth's soil. Instead, these too end up in a landfill.
The fact is, we need to make the environment a priority in every field. Sustainability cannot be a novelty or a footnote; environmental impact must be the foundation of all disciplines. All students should be required to take introductory environmental studies classes. All academic subjects need to have sustainability as the base of their field. We cannot make "green" or "eco-friendly" niches within industries. Rather, we must strive to eliminate any practices and products that are not within our ecological limits and that are not necessary to our survival, because the overwhelming consensus of all scholars suggests that we are, without a doubt, imperiling our own survival if we continue on with business as usual.
We need to deconstruct our lives. We need to take things away and abstain from what cannot be sustainable. We need to create new norms, new stories, and new values. Perhaps the genius is not in the tech billionaire that creates unsustainable technology of questionable merit, but the wise person who could have intellectually created the technology, but who considered the social, psychological, and environmental ramifications, and decided against it.
Years ago I read an anecdote about refugee immigrants from a third world nation who had settled in America. As a welcoming gesture, they were brought to a shopping mall, but rather than being awestruck by the array of products and consumer choices, they were overwhelmed and repulsed by the excess. If we are to survive as a species, we should all learn to feel this way.
At this point, we cannot count on our government officials to offer real solutions – or at least solutions substantial enough to tackle the multitude of issues we face. It's as if we have a preventable and reversible illness that could be solved through a change of lifestyle. We go to the doctor to be diagnosed. The Republicans react by denying the illness altogether. The Democrats ask for a magic pill, because they do not want to go through the trouble of exercising, eating less, and only ingesting quality, nutritious food. The rest of us, in every sector of society, in every field, need to pick up the slack and make necessary large-scale changes in production and consumption on both the individual and systemic levels. What these changes amount to most of all is living simply, personally and collectively. This is the true #resistance.
We cannot take for granted, as economists and industrialists do, that we will continue to produce and consume more. This premise, which undermines all of our research and policy initiatives pertaining to the environment, has been completely ineffective and must be abandoned.
Anyone who did not grow up rich or even upper middle class knows what it is like to sacrifice, knows what it is like to have to pick and choose - to only buy or use what is needed, rather than what is desired. You know you have to live without. You can't afford to splurge. This is where we are with life on the planet. We can't splurge anymore as individuals, but more critically, as industries and as societies. In fact, we couldn't afford to overindulge decades ago, and we should have never done so in the first place. We don't need science to understand this, and we don't need an ecological footprint calculator. We need empathy and a sense of connection with all life on the planet. If we can learn to consume according to our needs rather than our decadent desires, not only might we all live more enjoyable, fulfilling, and healthy lives, but we all might just continue to be able to live.